waterproofing

and


moisture control
Keep your basement free of moisture with our complete basement waterproofing and Moisture control solutions.
We offer the highest quality basement solutions you need to protect your home and the health and safety of you and your family.
Basement Waterproofing & Moisture Control
Almost all homes, apartments, and commercial buildings will experience leaks, flooding, or other forms of excessive indoor dampness at some point. Not only is excessive dampness a health problem by itself, it also contributes to several other potentially problematic types of situations. Molds and other microbial agents favor damp indoor environments, and excess moisture may initiate the release of chemical emissions from damaged building materials and furnishings.
Need to fix your water issues?
Click here to request your quote
Persistent dampness and microbial growth on interior surfaces and in building structures should be avoided or minimized, as they may lead to adverse health effects.
Over the years, as leading radon mitigation experts, we have learned first-hand about the impact a wet and damp basement has on indoor air quality in the home.  In fact, an often overlooked byproduct of our active sub-slab depressurization (ventilation) systems is a significant reduction in humidity and moisture as air is exhausted from beneath the basement floor to the exterior of the home. 
Moreover, there is a synergistic relationship between active sub-slab ventilation (radon systems) and waterproofing systems.  We often use perimeter drains as critical components of our mitigation systems to enhance pressure field extension and ensure good airflow throughout the entire affected basement area.  The benefit of this is two-fold: (1) indoor radon levels are reduced and (2) the damp perimeter drain and area beneath the slab are dried-out and vented to the exterior of the home, resulting in an immediate improvement in indoor air quality.
These systems, along with whole basement filtration and dehumidification systems, provide a complete moisture control and indoor air quality solution resulting in the peace of mind that you and your family are protected.
One of the simplest, most effective ways to stop basement flooding is to install a full interior perimeter drain in your basement.
We take pride in our ability to provide homeowners a drainage system installation quickly and effectively.
Once we're done, we'll provide you with a written lifetime warranty on your system. Should you decide to sell your home in the future, this warranty can be transferred over to the new owner.  The typical installation process includes:
Installing an interior perimeter drain and vapor barrier along walls of your basement.
Digging a sump pump well for water collection.
Installing an appropriately sized sump pump to discharge any potential water build-up.
**BONUS** Adding sub-slab ventilation and a dehumidifier for maximum moisture control and indoor air quality. 
How long does it take to install a perimeter drain?
Our team can install most systems in 1-2 days.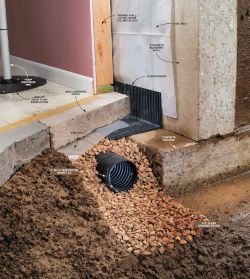 Crawl space Encapsulation And Ventilation
While not always obvious, the condition of your crawl space has a significant impact on the interior living space of your home.  As warm air rises and leaves the upper levels of your home, in a phenomenon known as the "stack effect", a vacuum is created below, and air is pulled upwards through the basement, crawl space, and lower levels of the home.  Encapsulation and ventilation will control moisture and reduce mold, bacteria, dust mites, and allergens from entering your home through your crawl space.  To accomplish this, our team will:
Encapsulate the crawl space with thick vapor barrier to seal-off entry of moisture, dirt, organic material, microbes, vapors, and soil gases (including radon), bacteria, mold spores, and pests.
Ventilate beneath the vapor barrier to evacuate pathogens, soil gases, vapors, and dry the encapsulated area.
Install an appropriately sized dehumidifier to condition space at or below 50% relative humidity.
Install a sump crock and appropriately sized sump pump to discharge any potential water intrusion.
How long does it take to encapsulate a crawl space?
Our team can install most systems in 2 days.
Leaky basement walls
It's common to have several small cracks form in any type of basement wall — even in a new home — and those cracks are openings for water to make its way through.
Additionally, concrete block basement walls hold large open cavities inside that can run up and down the walls. These walls are made out of concrete, a porous material that easily allows water vapor to soak through and enter the basement. 
As water passes through the concrete, it can reach the large hollow gaps in block walls or force its way through basement wall cracks. Block wall cavities can fill with water, soaking the concrete and seeping through to the home, and water can push its way through the basement wall floor joint and flood the basement.
Solving the problem includes installing a sump pump, perimeter drainage system, a vapor barrier. For block walls, weeping holes drilled to release the water.
How does the process work? Simple.
Install a sump pump well and sump pump.
(We recommend a battery backup system to protect your home in the event you lose power while flooding occurs)
Cut a perimeter drain channel then drill weep holes to release and water in the block. This will direct the water towards the sump pump well.
Install wall flange network to collect any water from the walls and ensure it stays within the drain system. This will be laid in a bed of crushed stone for optimal water flow.
Install vapor barrier on the walls. This is to encapsulate the walls and ensure any water penetration makes it directly to the drainage system.
Sump pump installations & Replacements
Need a sump pump well / sump pump installed or replaced? No problem. Our expert team has been installing sump pumps since 1986 as part of our indoor environmental and basement services.
Sump pumps last on average 7-10 years. We always recommend that our clients replace outdated pumps to protect their basements (and valuables) before it's too late!
Whole house & Basement dehumidifiers
Even a basement with an effective waterproofing system can still develop moisture and mold problems and feel damp.  Concrete walls and floors continually absorb moisture from the soil and release it into the air in your basement. Temporary dehumidifiers just aren't strong enough to solve this problem. 
We will install a properly sized unit to ensure your damp spaces are dry and you are able to achieve maximum indoor air quality and comfort in your finished and unfinished basement spaces. As always, function and aesthetics are our top priorities. We aim to provide the highest indoor air quality without sacrificing the design aesthetic of your finished basement or planned finished basement. Unlike plug-in units, the dehumidifiers we install are designed to work in conjunction with your HVAC system or independently behind the walls and in the utility areas out of sight.