What is Vapor Intrusion?
A process of vapor intrusion known as infiltration of harmful vapors occurs from the contaminated subsurface into an overlaying building. In other words, the placement of physical and chemical resistant vapor between the contaminated media( in soil, groundwater, drainlines, sewer) and the structure(living place or building) is termed as vapor intrusion.
To control the problem or level of vapor intrusion a system of vapor intrusion mitigation is designed. Therefore, to protect the enclosed structure from these infiltration of harmful vapors you can consult the experts in this field.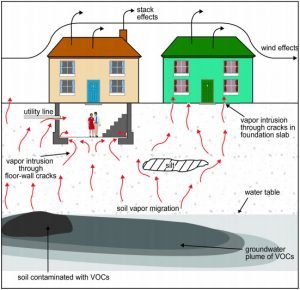 Figure 1: Migration of Soil Vapors to Indoor Air
This figure depicts the migration of vapors in soil gas from contaminated soil and groundwater into buildings. Vapors in soil gas are shown to enter buildings through cracks in the foundation and openings for utility lines. Atmospheric conditions and building ventilation are shown to influence soil gas intrusion.
What Is Vapor Intrusion Mitigation?
Vapor intrusion mitigation removes or decreases the amount of harmful vapor entering your home.To remove or reduce the underground contamination, you need a long-term method of vapor intrusion mitigation and make sure you get the services from the professionals such as Safe Shelter Environmental .
At Safe Shelter Environmental , the knowledgeable experts will provide you with the hassle-free process of vapor intrusion mitigation at an affordable price.Our technicians use the advanced vapor intrusion technology to protect new construction and existing structure from the effect of vapor intrusion.
What Does The EPA Have to Say About VOC Levels?
According to the EPA, as many as 50 to 300 different VOCs are present in the air of homes, schools and offices. These compounds are measured in parts per million (PPM). The concentration of these compounds and their effects are outlined below:
| | |
| --- | --- |
| < 1 PPM = "Green" | No significant ill effects on health of occupants |
| 1 to < 10 PPM = "Yellow" | Likely to produce some complaints and ill health effects among occupants |
| 10 PPM and greater = "Red" | May lead to more adverse effects on health. |
Although office buildings produce far fewer VOCs than industrial operations, even nice-looking offices can harbor unhealthy VOC levels. New office buildings tend to have the highest VOC levels due to all the new materials releasing chemicals into the air. This generally lasts about 6 months and is referred to as "chemical outgassing." Employees who are particularly sensitive to these toxic compounds may complain of headaches and irritation of the eyes, nose, or throat. Such complaints are typical of "sick building syndrome,, which is also known as "tight building syndrome" in reference to a building's lack of fresh airflow.
Obviously, reducing VOC levels benefits everyone. Aside from helping to reduce ozone in the atmosphere, it instantly creates a healthier work environment for your employees. Fewer of them feel bad when on the job, there are fewer sick days, and morale is generally improved just by knowing they are working in a place that cares enough to provide a healthy work environment.
How Does It Work?
Whether you required vapor mitigation for new construction or existing one, the methods used to control the level of harmful vapor is done by:
Sealing Openings:
Filling cracks and gaps around pipes, on the food, and utility lines in basement walls.
Installing Vapor Barriers:
The geomembrane or strong plastic sheets are placed beneath a building to prevent vapor entry. This method is applicable during the new construction and not in case of existing structure.
Passive Venting:
Using a vapor barrier an installation of a venting layer is done beneath a building. This method is performed before building construction or underneath existing buildings.
Sub-Slab Depressurization:
A blower (an electric fan) is connected to a suction pit underneath the building to vent vapors outside the air.
Building Over-Pressurization:
To create the indoor pressure greater than sub-foundation pressure we use this method of adjusting the heating, ventilation, and air-conditioning system.
Is Vapor Intrusion Mitigation Safe?
Safe Shelter Environmental highly recommends this method of vapor intrusion mitigation, as it improves the quality of indoor air along with the level of radon gas and soil moisture.
In case, looking for the best vapor mitigation services, give us a call.
Get Your Free Mitigation Estimate Today!
Allentown, PA | Ardmore, PA | Berwyn, PA | Bryn Mawr, PA | Chester County, PA | Chester Springs, PA | Downingtown, PA | Exton, PA | Glen Mills, PA | Haverford, PA | Kennett Square, PA | Malvern, PA | Merion, PA | Narbeth, PA | Paoli, PA | Pottstown, PA | West Chester, PA | Wynnewood, PA